SI Research Notes: Asian Art at Freer and Sackler Galleries
---
The Freer Gallery of Art opened its doors on the National Mall in Washington, D.C. in 1923 to display the Asian and American collections given to the nation by Charles Lang Freer (1854-1919). It was the Smithsonian Institution's first art museum and houses an outstanding Asian art collection that has continued to grow. Arthur M. Sackler's contribution of his collection led to the opening in 1987 of the Arthur M. Sackler Gallery adjacent to the Freer Gallery. Operated by the same staff, these two galleries together form the Smithsonian Institution's National Museums of Asian Art.
During his lifetime, Freer acquired just a handful of objects from South and Southeast Asia. Through purchases and gifts from Sackler and other collectors, the collection has developed into a rich and expanding representation of Southeast and South Asian and Himalayan art. The staff works closely with museums and colleagues in the region and has established a training program for bronze conservation at the National Museum of Cambodia.
The arts of South Asia and the Himalayas are closely intertwined with the subcontinent's many religious traditions. This region, which includes India, Pakistan, Bangladesh, Sri Lanka, Nepal, Tibet, and Bhutan, is the birthplace of three major religions:  Hinduism, Jainism, and Buddhism. The Islamic kingdoms that were established in South Asia in the 12th century brought new visual traditions to the subcontinent. The galleries' collections illuminate these richly diverse sacred traditions as well as the secular arts of the Mughal and Rajput courts.
Hindu stone, bronze, brass, and terra cotta sculptures from South India dating from the 8th to the 14th centuries are complemented by a group of stone sculptures from the 10th to the 13th centuries from Cambodia. The Sackler Gallery also houses the Hauge Collection of ceramics from Southeast Asia.
Highlights of the Asian collections include 10th - 14th-century glazed ceramics from the Khmer empire in Cambodia, 12th – 17th-century glazed ceramics from north and central Vietnam, 16th - 19th-century paintings made for the Mughal and Rajput courts of North India, and 18th - 19th-century works comprising drawings and paintings by Indian artists for British patrons.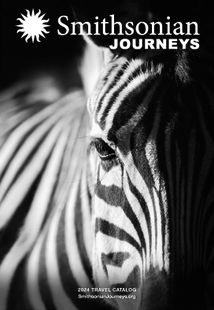 Request a Free Catalog
Download now to find inspiration for your next journey
Get It Free!
Be the First to Know
Sign up to learn more about our tours and special offers
Sign Up