A Welcome to Our Blog
---
Welcome to Smithsonian Journeys Travel Blog, an exciting online forum designed to share your travel experiences. Like the Smithsonian Institution itself, our blog is a place for discovery, insight, and fun! As an enhancement to Smithsonian Journeys – the Institution's educational travel program - we've gathered stories, observations, reflections, and more to offer access to far-flung destinations and fascinating people around the world.
Visit us often to read notes from the field, browse our photos and videos, hear the latest about travel, and keep up on what's new at the Smithsonian Institution. Blog postings are made by several writers who share a passion for travel. They include Smithsonian Journeys expert Study Leaders and professional Tour Managers, the Smithsonian Journeys team, and our travel partners.
And of course, we want to hear your comments on travel, inspirational journeys, favorite destinations, travel tips, photos, and more. We hope you'll enjoy our new community designed to promote travel and pique your curiosity about the world around us.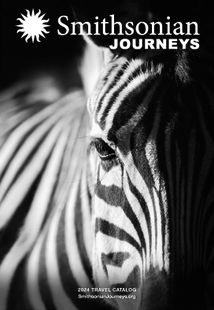 Request a Free Catalog
Download now to find inspiration for your next journey
Get It Free!
Be the First to Know
Sign up to learn more about our tours and special offers
Sign Up